Creating Links
You can create links to other webpages using the Insert/Edit Link tool in most of the Rich Text Editors on your site. This function has been disabled for some Title fields that already link to other pages. (eg. Gallery titles link to a gallery page). To create a link:

STEP 1. Highlight some text in your Rich Text Editor.

STEP 2. Click the insert/edit link icon. (see image below).



 

STEP 3. In the pop-up box enter the Link URL for the page you wish to link to. It is better to copy and paste the URL directly from the Link page to avoid errors.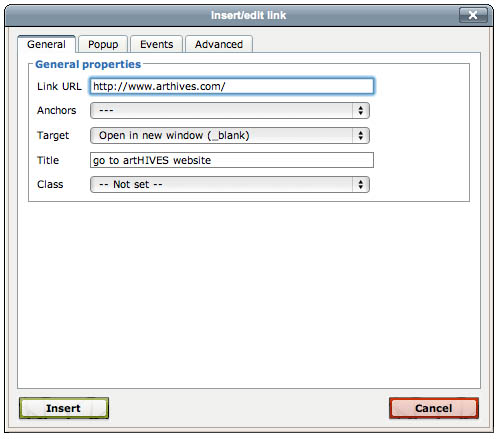 STEP 4. From the dropdown menu choose a Target option. - Choose "Open in this window / frame" when linking to a page within your own site. - Choose "Open in new window (_blank)" when linking to another website.
STEP 5. Click the "Insert" button which will close the pop-up window.
STEP 6. Don't forget to Click the "Update" button at the bottom of the page to save changes.